We were delighted to read this article and think that it speaks for itself.
/EMH
Originally published by Jezebel on October 7, 2014. Written by Kate Dries.
———-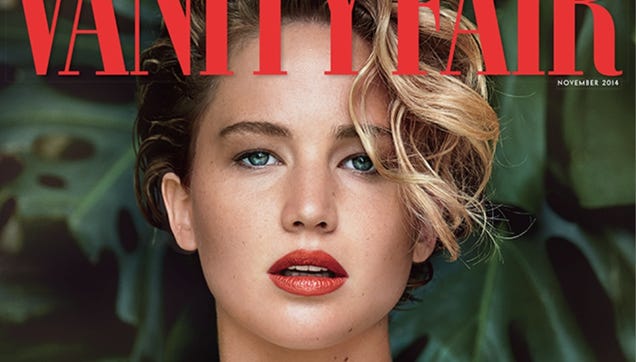 Well Vanity Fair has scored a big coup: they've got Jennifer Lawrence on the cover of the November issue of the magazine, giving her first statement since her nude photos were stolenfrom her.
As the magazine proudly touts in a preview of the issue, which is out on Wednesday, though writer Sam Kashner interviewed Lawrence before the photos were put on the internet, he called her later in the hopes that she'd comment further, outside of the statement her lawyer made.
…Kashner followed up with Lawrence's team in hopes of giving the actress "a chance to have the last word."

"I could just sense after having spent a little time with her that she would come out swinging," Kashner tells VF.com.
In the piece, Lawrence said she considered releasing a statement, some sort of apology, when she found out about the photos getting out, but realized "I don't have anything to say I'm sorry for. I was in a loving, healthy, great relationship for four years. It was long distance, and either your boyfriend is going to look at porn or he's going to look at you."
"Just because I'm a public figure, just because I'm an actress, does not mean that I asked for this," she says. "It does not mean that it comes with the territory. It's my body, and it should be my choice, and the fact that it is not my choice is absolutely disgusting. I can't believe that we even live in that kind of world."
Additionally, she specifically addresses the legality of sites like Reddit, etc. that allowed the photos to be posted in the first place. (Fun fact: Reddit was once owned by Condé Nast's parent company Advance Publications and Advance is still a major shareholder in Reddit. As Redditdescribes it, they are a "part-sibling-once-removed" of Condé Nast.):
"It is not a scandal. It is a sex crime," she tells Kashner. "It is a sexual violation. It's disgusting. The law needs to be changed, and we need to change. That's why these Web sites are responsible. Just the fact that somebody can be sexually exploited and violated, and the first thought that crosses somebody's mind is to make a profit from it. It's so beyond me. I just can't imagine being that detached from humanity. I can't imagine being that thoughtless and careless and so empty inside."
As well as pointedly calling out the many people – including people she is close to – who didn't leak them but still looked at them:
"Anybody who looked at those pictures, you're perpetuating a sexual offense. You should cower with shame. Even people who I know and love say, 'Oh, yeah, I looked at the pictures.' I don't want to get mad, but at the same time I'm thinking, I didn't tell you that you could look at my naked body."
Image via Patrick Demarchelier/Vanity Fair